Ford's Figurative Commission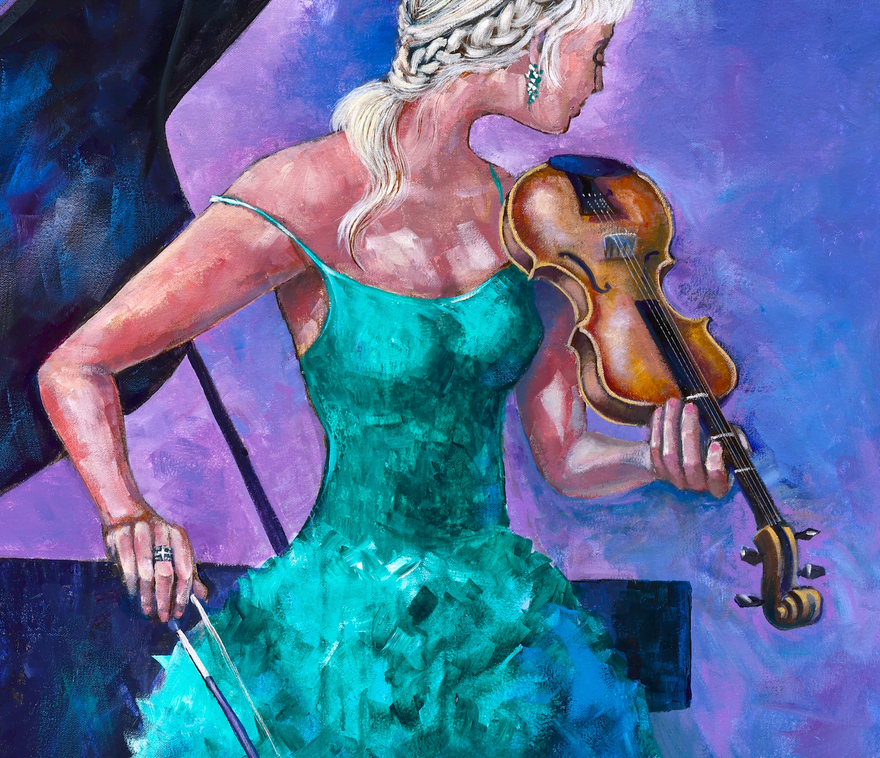 Recently, Ford was asked by a long time collector to create a commissioned painting of a woman, a violin and a grand piano, employing his own style and vision.  What the client didn't know is that 30+ years ago, when he was a fashion photographer, Ford did a magazine cover shoot of a beautiful woman in an evening gown, holding a violin, and it was that photograph he decided to use as foundational inspiration.  
He got right to work, excited and challenged by this divergent subject matter.  As you might imagine, Ford Smith's painting abilities are not limited to landscapes, although they are certainly his signature style.  He had not painted a figurative painting in years.  
As he was working on the painting, he discovered new techniques and learned more and more with each day in the studio. After about a week, Ford decided that he wanted to create an entirely new painting utilizing all he'd learned, so he set the first one aside and began anew with a fresh canvas. 
This second painting flowed effortlessly, and consequently inspired changes he wanted to make in the first painting, which he did.  Soon he was painting two beautifully distinctive works of art, each one different from the other but with similar palettes and subject matter.  
"Elegant Notes" by Ford Smith (60"x36") Original painting in acrylics
"Melodic Muse" by Ford Smith (60"x36") Original painting in acrylics
When they were both finished, Ford believed both paintings to be exceptional and decided that the acquisition choice between the two should be made by the collector, who had no idea that her commission had inspired two paintings. As it happened, she decided to acquire BOTH of these magnificent masterpieces for her Ford Smith collection.  
We thank the special collector for inspiring Ford to embark on this art journey and encouraging us to share these gloriously elegant paintings with the world.  
Works in progress...
Details on "Elegant Notes" below...
Details on "Melodic Muse"...
---
---
Leave a comment
Comments will be approved before showing up.