Ford Smith's Point of YOU Show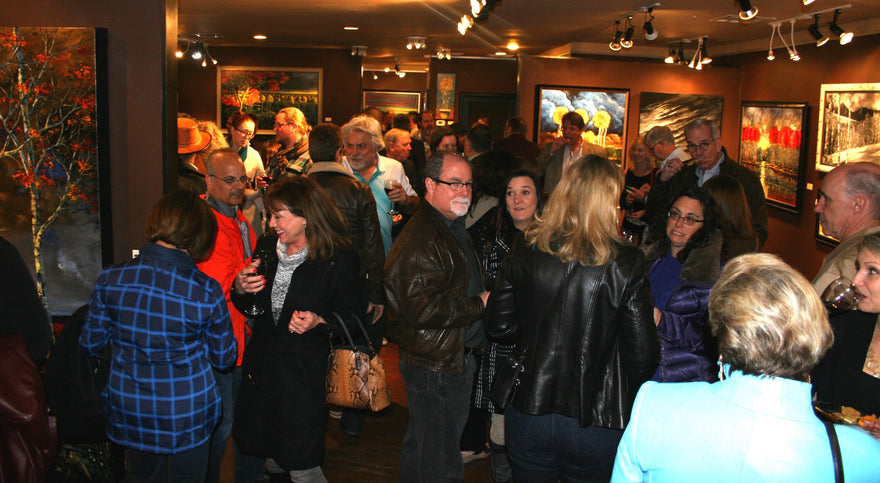 Oh, what a night!  Atlanta Ford Smith fans came out in droves to be among the first to see this gorgeous and intriguing exhibit last Friday night at the new Ford Smith Fine Art Gallery.  The art was among the most exciting of Ford's career with enthralled viewers walking from one area to another to experience these dynamic, iridescent paintings that change moods and palettes with varying perspectives.  
It's nearly impossible to explain the experience or even translate the metamorphosis of the art via images, but we will show you a couple of examples to give you an idea.  The show will be up for the entire month of March, so we hope that you'll make a point to stop into the gallery and see this remarkable art in person.
Shown below is the original painting, "Remembering When" by Ford Smith  18"x18" canvas size (quickly photographed pre-show here, but professional photos will be taken this week).  Note the first image is shot straight on and shows brilliantly bright and soothing pastels, and then when stepping to the left angle, the art changes and becomes more dramatic and the tone shifts more monochromatically.  It was really fun to watch our gallery visitors moving around each of these paintings to experience the variations.  
Next up, Ford has a big show on March 19-20 in the small town of Fuquay-Varina, NC at one of our favorite galleries just outside of Raleigh-Durham called "Ashley's Fine Art Gallery".  This will be Ford's 4th annual show and they get bigger each year.  If you couldn't make it to the Point of YOU show in ATL and are closer to the N. Carolina area, we invite you to join us. A fantastic array of monochrome and iridescent paintings will make their appearance there, as well as new vivid and colorful landscapes from the series that makes him one of America's greatest living painters.  
Also new at the Ford Smith Gallery is Renee Brown, our full time art consultant who will be welcoming gallery patrons along with me weekdays from 12pm-7pm, Fridays and Saturdays 12pm-8pm and Sundays 12pm-5pm.  A veteran fine art gallery consultant and director from Laguna Beach, CA, we're thrilled to have such an experienced fine art professional working with us and representing Ford's art in our fabulous new gallery.  Make a point to stop in and say "hello" to Renee the next time you're in Roswell!  
Your gallery hosts Renee Brown, Ford and Cristi Smith
---
---
Leave a comment
Comments will be approved before showing up.